Handmade Quilt Raffle for 2021
June 29, 2021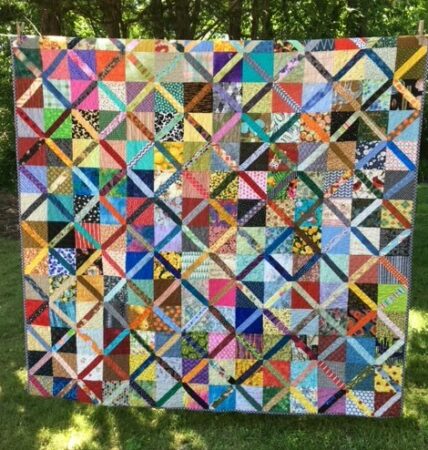 This twin-size quilt was made and donated to Shindig on the Green 2021 by local quilting collaborative Mountain Jam Circle.
The 252 quilt blocks were made from scraps of cotton fabric in a variety of colors and patterns, and arranged to form a diagonal grid. Your children and grandchildren can play at searching for the images of birds, animals, and everyday shapes and objects depicted.
Valued at over $800, this is the tenth handmade quilt that Mountain Jam Circle has donated to Shindig on the Green.
Raffle tickets for the quilt are $3 or two for $5, and are available at Shindig on the Green and at the Mountain Dance and Folk Festival.
Thank you everyone for participating and supporting the Shindig on the Green!