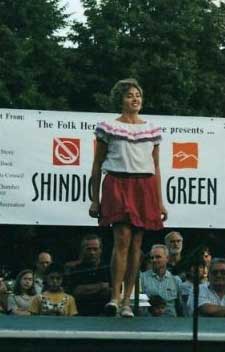 Loretta Freeman Receives 2019 Lunsford Award
September 14, 2019
We are honored to announce that this year's Lunsford Award was presented to the Folk Heritage Committee chair Loretta Freeman for her significant contributions to traditional music and dance. The award was presented on the main stage of the Lunsford Festival at Mars Hill University.
Loretta Freeman comes from a long line of dancers and traditional musicians. Her father (Gordon Freeman), uncle (Arvil Freeman), and brother (Terry Freeman) are all prior recipients of the Lunsford Award, and Loretta is helping to make sure those family traditions continue. Her daughters Lynsey and Lauren also clog, and son Dexter plays the guitar. Both Loretta and Lynsey have been recognized by America's Clogging Hall of Fame as All-American Cloggers.
Freeman's roots are deep in Appalachian culture and she is known for developing her own style of Appalachian dance that combines buck dancing, flatfoot, and traditional clogging. She has danced with Mars Hill University's Bailey Mountain Cloggers and the Southern Mountain Fire Cloggers, among other teams. She serves as chair of the Folk Heritage committee, a group of volunteers who've kept the Mountain Dance and Folk Festival Festival (founded by Bascom Lamar Lunsford in 1928) going for 92 years and Shindig on the Green for its 53-year run.
Freeman's own words say it most eloquently:
"I cherish the music and dance heritage of our mountain communities and will continue to do my part to preserve it for the rest of my life. Our music and dance does link the elderly to the young, and neighbor to neighbor. It's all about the gathering to hear and see through our voices, our hands, and our feet. I see music and dance as a summary recording of Appalachian Mountain life… The present learning from the past, through gathering and inclusion, blends all our voices and balances hearts to minds. I am just a link in the chain. I admire and thank Mars Hill University for its dedication to the preservation of our Appalachian Mountain Art. I will cherish this award for my family, and my extended family who have so graciously handed the link to me for a short time."
Congratulations, Loretta!